Been a while since the last update. Lots of things going on. Kids went home couple of weeks ago, miss them a lot, maybe things will change, who knows.
We finished the Endeavor for Joey. He now has his own, swing set, slide, rock wall and fort with picnic bench to play on until he out grows in a few years. Don't know what happen to the pics will have to take more and post them.
Fence is up around a portion of the backyard, just need 2 gates for the front, but as usual Home Depot was out of what we needed. Will have to keep going back until the have them in stock again. The dogs weren't sure what to do when we let them out without their runners, they wont go past the standard length of the leads and now we prod them to out further until they reach the fence.
Other exciting news, I finally received my results for my medical coding, I PASSSED!!! I am now a certified coder for Emergency Medicine. I am also set for my finals for the last of my classed for my associates degree in Medical Management. This has only taken 4years and 6months to complete. I will be so happy when it is done, though the bill will still be there for at least another year :-(
In Knitting News:
Jessica finished her first knitted item. A
Prayer shawl
using Homespun(no I will not link it)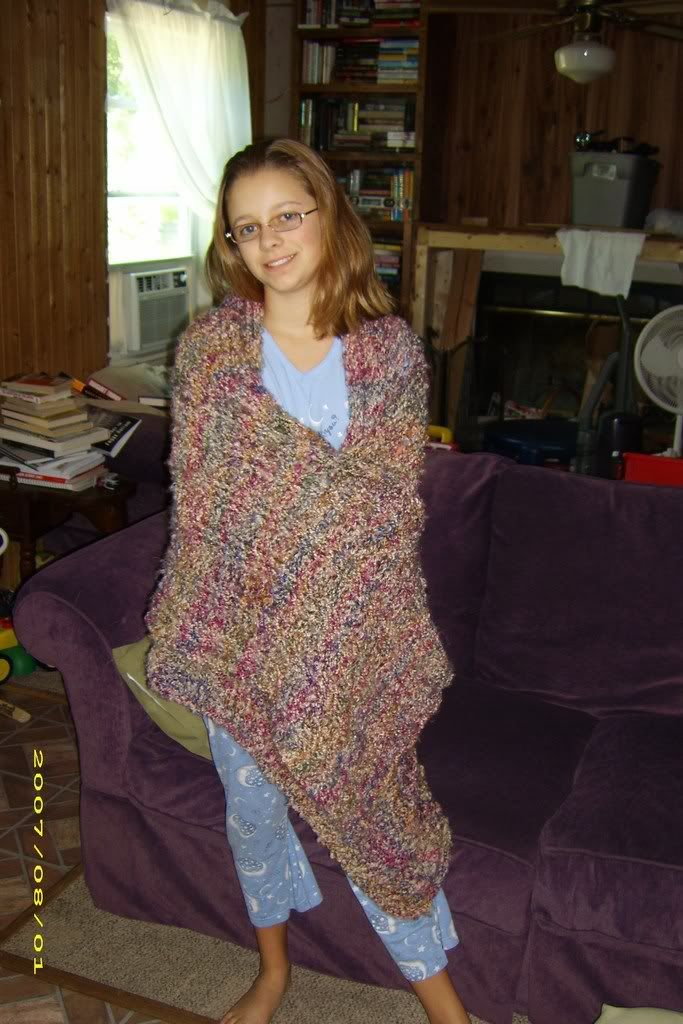 Then Joey wanted to play with it too...
Finished Joey's ankle socks, using some left over Tofutsies. He calls them his butterfly socks...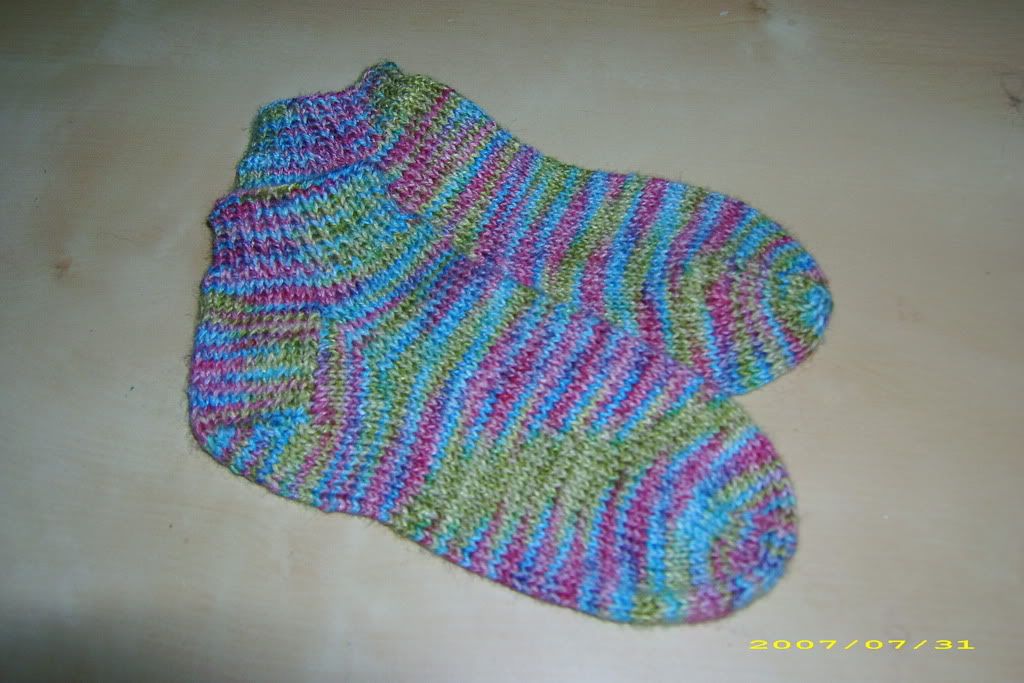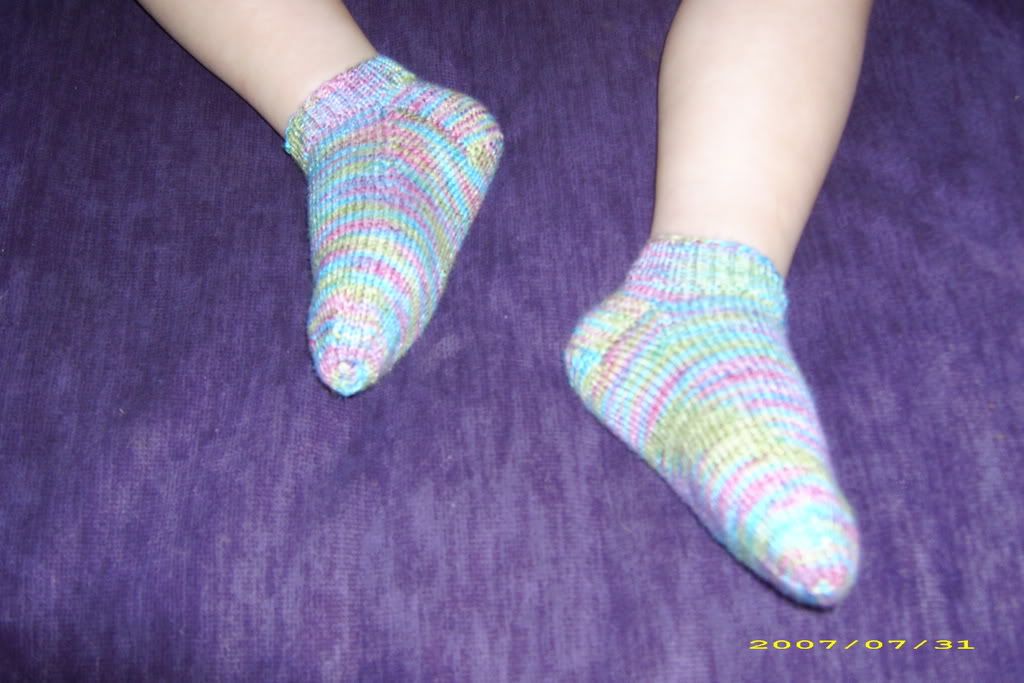 Lets see, I finished the sweater for
Cubs for Kids
and my Football Knitalong....
and started my July offering for
Chameleon Colorworks Sock of the Month Club
, not bad for my first toe up (3 tries) and doing Fair Isle/stranding for the first time. I am a little further along than the picture shows, about 1/3 of the way through the foot pattern. Had to make some adjustments though, mainly to get gauge I would have been knitting on #6 and it just didnt look right. So I stuck with #2 and increased a few more stitches and adjusted the pattern accordingly. I am fairly certain I do not like the funky look of the toe, will have to see what adjustments to make to get rid of the squared look. I do like the toe up though trying on as I go along has been really neat.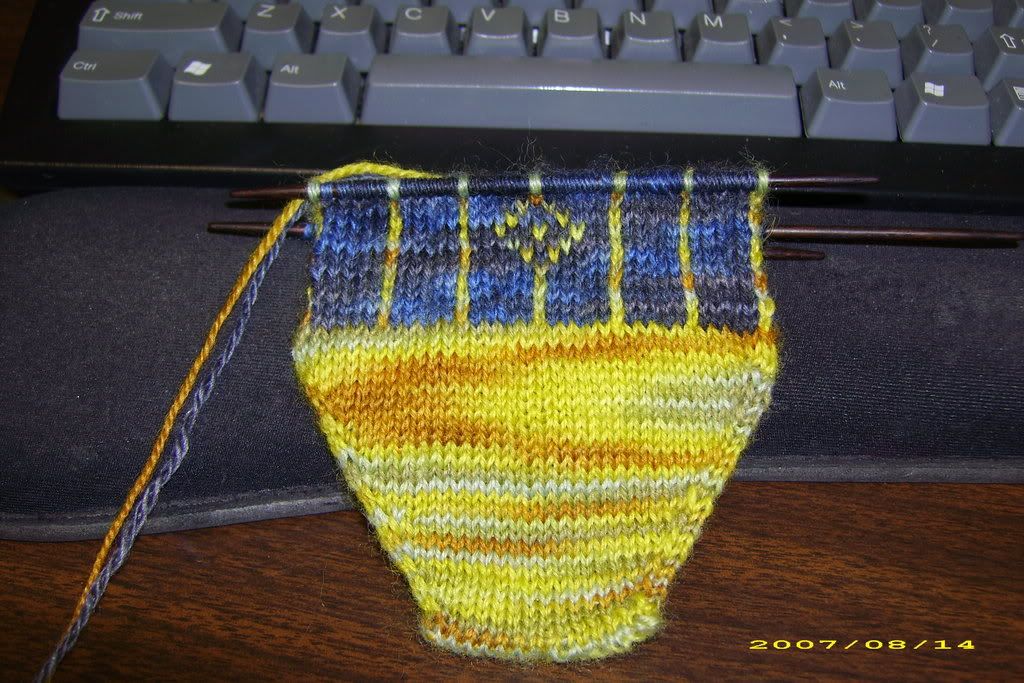 That's it for now I think. Will work on the pics of Joeys swing set. Enjoying what is left of my summer and working, knitting and getting ready for the Fall..... Blessings all....