Been a long week, work has been hectic, with sick calls and whiny faculty...
But it has also been a very generous week, swap packages from Knit Tea and Fall into Autumn.

First from my wonderful Knit1Tea2 swapper
Ruth
that I received last week.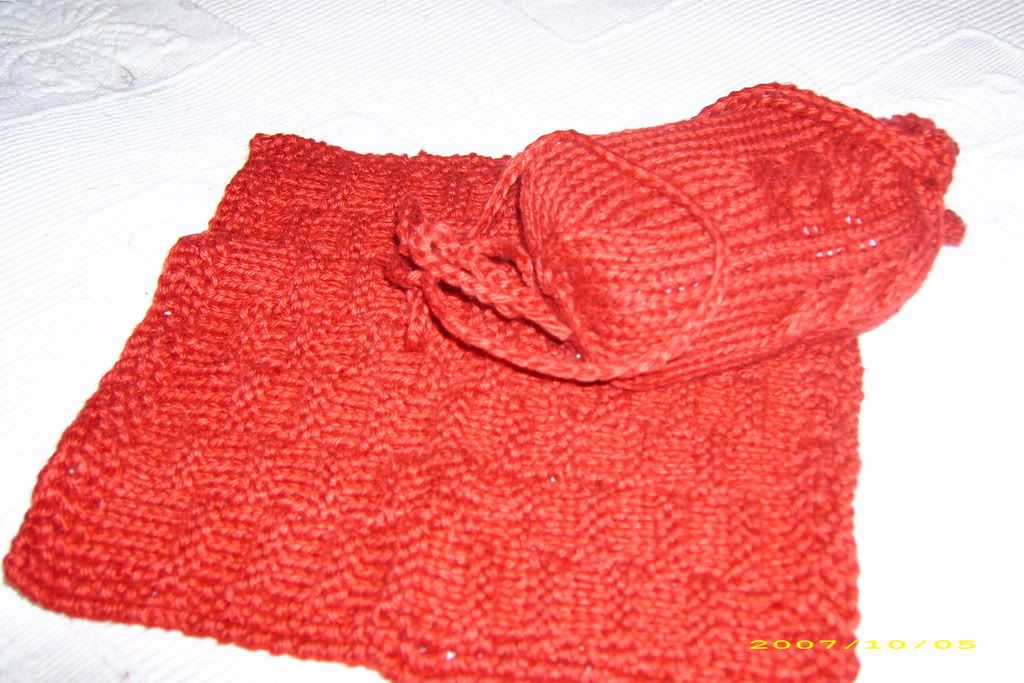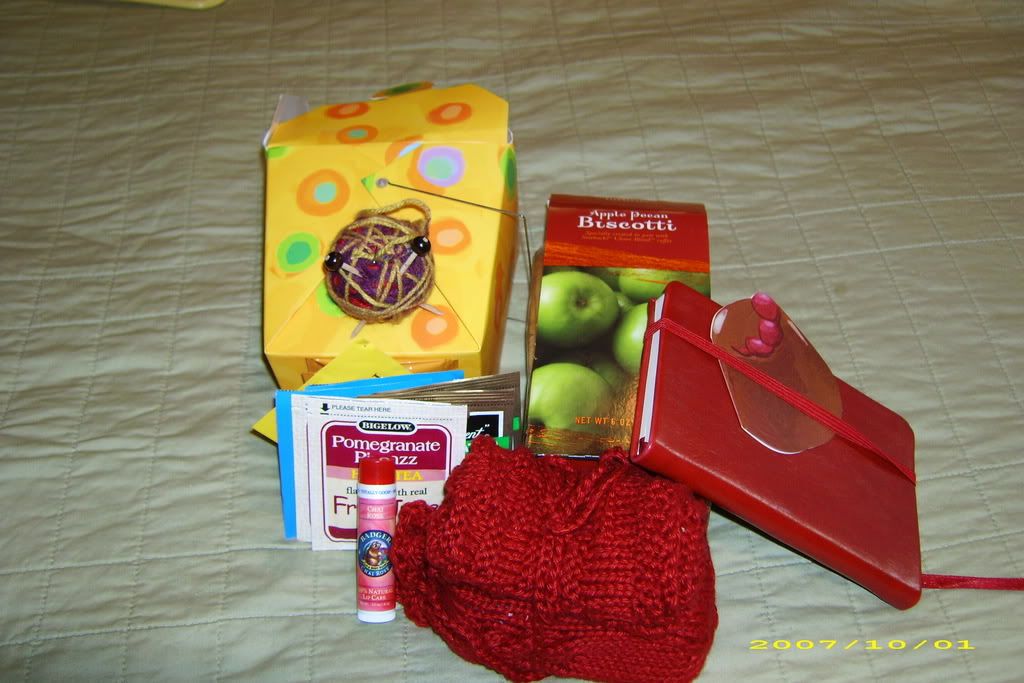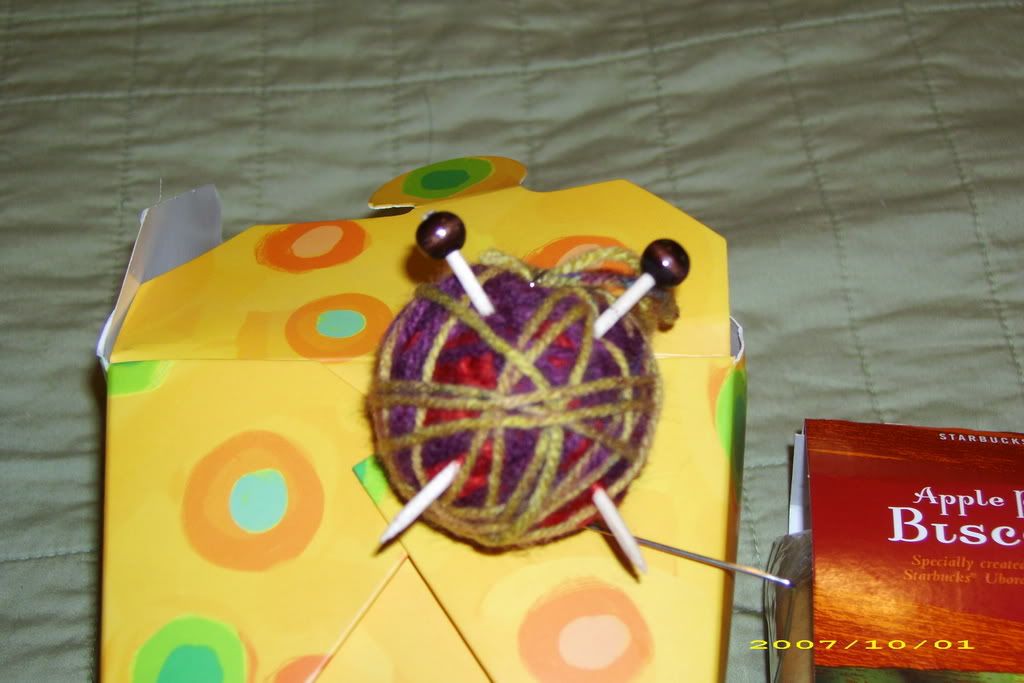 In the box was Apple Pecan Biscotti, very tasty, a variety of yummy tea packets that went to work with me. A lovely red note book that went straight into my knitting bag with the lip balm. And the top 2(actually 3) lovely goodies were the adorable yarn ball with needles ornament (I had it in my shadow box above the bed but moved to hang over my computer monitor so I can look at it all the time). Last but most certainly not least, the gorgeous red knit washcloth and soap bag with rose Petal soap, smelled it as soon as I opened the box and still keep sniffing it, rose and spicy, love it. Thank You Ruth for a wonderful Tea Swap.
During the course of the week I have also received, the Halloween kit, It's the Great Pumpkin Charlie Brown from
Wool Girl
...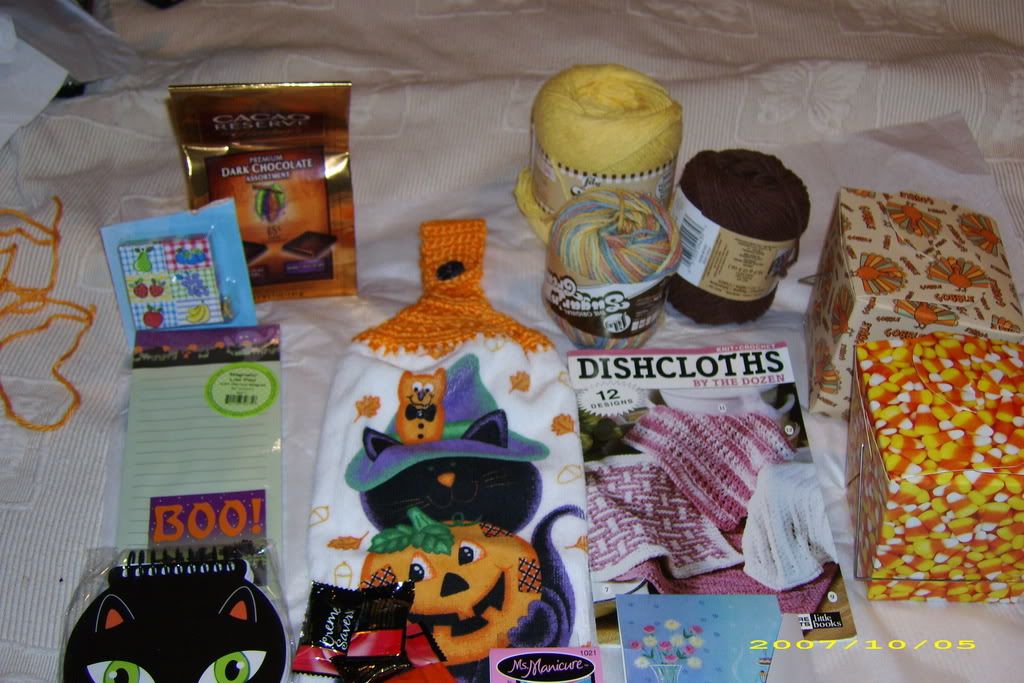 So many goodies, from my dear swapper
Betsy
. Halloween Note pad with a magnet, black kitty note pad, Some wonderful chocolates, Peaches and cream yarn, a pretty new tape measure, pattern book. Halloween dish cloth with the crocheted top to button onto the fridge or stove and then in the two pretty little chinese boxes, a Halloween dishcloth with a pumpkin candle holder and spicy candle and a candy corn pin, and in the autumn one, another dishtowel with the button top in Autumn colors, a lovely pattern dishcloth, soap in lemon verbana and another candle. Thank you Betsy for a wonderful autumn swap!!!
And I also became a proud member of the Wooly Wool Girl Frequent Shopper club. wonderful gift items, New tote bag, Knitting journal, tape measure and some other wonderful little goodies!!! sorry no pics, between Joey and the cats, it was put away rather quickly, barely saved my washclothes. from marauding wild things...
Well off to bed for me, been a long week and will be and even longer weekend.... 6 DAYS UNTIL STITCHES, YIPEEE... goodnight folks...